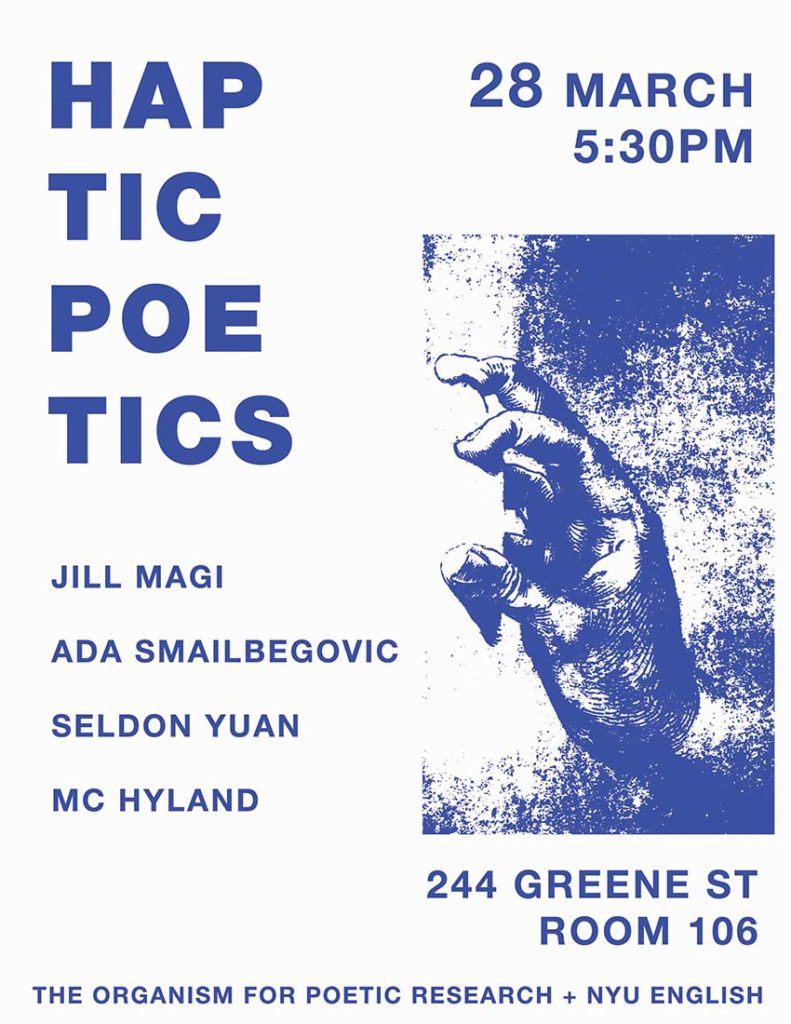 Jill Magi is an artist, educator, and critic working in text, image, and textile. She is the author of Threads (Futurepoem 2007), Torchwood (Shearsman 2008), SLOT (Ugly Duckling Presse 2011), Cadastral Map (Shearsman 2011), LABOR (Nightboat 2014), and a scholarly monograph on textimage hybridity, Pageviews/Innervisions (Rattapallax/Moving Furniture Press 2014). In the spring of 2015 Jill wrote weekly commentaries for Jacket2 on "a textile poetics," and recent essays have appeared in The Edinburg Companion to the Critical Medical Humanities, The Force of What's Possible: Accessibility and the Avant-garde and The Racial Imaginary: Writers on Race in the Life of the Mind. Also in 2015 she curated two e-pamphlets for Essay Press entitled Labor Poetic Labor! and featuring interviews with poets, an historian, and a librarian on labor and culture work, as well as creative works inspired by the holdings of the Wagner Labor Archive at New York University's Bobst Library. The NYU Abu Dhabi Project Space Gallery mounted a solo exhibition of Jill's visual work in 2015 and other visual work has been exhibited at apexart, Pace University, Columbia College Chicago, and The Textile Arts Center Brooklyn where she was an artist-in-residence. She is assistant arts professor teaching textiles, poetry, and art electives at NYUAD where she joined the faculty in 2013.
Ada Smailbegović was born in Sarajevo and now resides in the triangular movement between New York, Vancouver and Providence. She studied biology and literature at UBC, completed a PhD in Poetry and Poetics from NYU and is now an Assistant Professor of English at Brown University. Her writing explores relations between poetics, non-human forms of materiality, and histories of description. She is a co-founder of The Organism for Poetic Research. Her critical and poetic work includes Avowal of What Is Here (JackPine Press 2009), Of the Dense and Rare (Triple Canopy 2013), "Some Disordered Interior Geometries" (Reanimation Library; The Volta 2015), "Cloud Writing" (Art in the Anthropocene 2015), and an article on animal architecture and the affective ethology of Monk Parakeets (Angelaki 2015). She is currently at work on a critical-theoretical book Poetics of Liveliness and a poetry chapbook, The Scarlet Letter: or (On Waiting), is forthcoming this winter from Doublecross Press.
Seldon Yuan received his BHA at Carnegie Mellon University and his MFA at Hunter College and studied at Beaux Arts Paris. His art has been exhibited nationally and internationally in various galleries and venues including the Museum of Modern Art, International Center of Photography, Cedar Rapids Museum of Art, Arario Gallery, Rare Gallery, La Generale in Paris, Gallerie 69 in Oslo, Norway, Around Space in Shanghai, and the Museum of New Art in Detroit. He has completed residencies at Chashama North, Bowery Poetry Club, Naropa University, Wave Hill, and the Center for Book Arts. He has published two books of poetry, published poems in various periodicals, and performed his poetry across the US and Paris. His artwork is in both private and public collections including the Cedar Rapids Museum of Art, New York Public Library, Yale Arts Library, Southwest State University, and New York Historical Society, and the Center for Book Arts. He most recently completed a commission for Socrates Sculpture Park in New York for their 2012 Emerging Artist Fellowship, was included in the 2013 Bronx Museum of Art AIM Biennial, and received a New York Foundation of the Arts Fellowship in 2015.
MC Hyland holds MFAs in Poetry and Book Arts from the University of Alabama and is currently a PhD Candidate in English Literature at NYU. A former Director of Artist and Adult Programs at the Minnesota Center for Book Arts and Printshop Steward at the Center for Book Arts, NY, she is the author of the poetry collection Neveragainland (Lowbrow Press, 2010) and several poetry chapbooks, including the forthcoming THE END PART ONE (Magic Helicopter Press). The founding editor of DoubleCross Press, her research focuses on print culture, the commons, and the history of authorship.