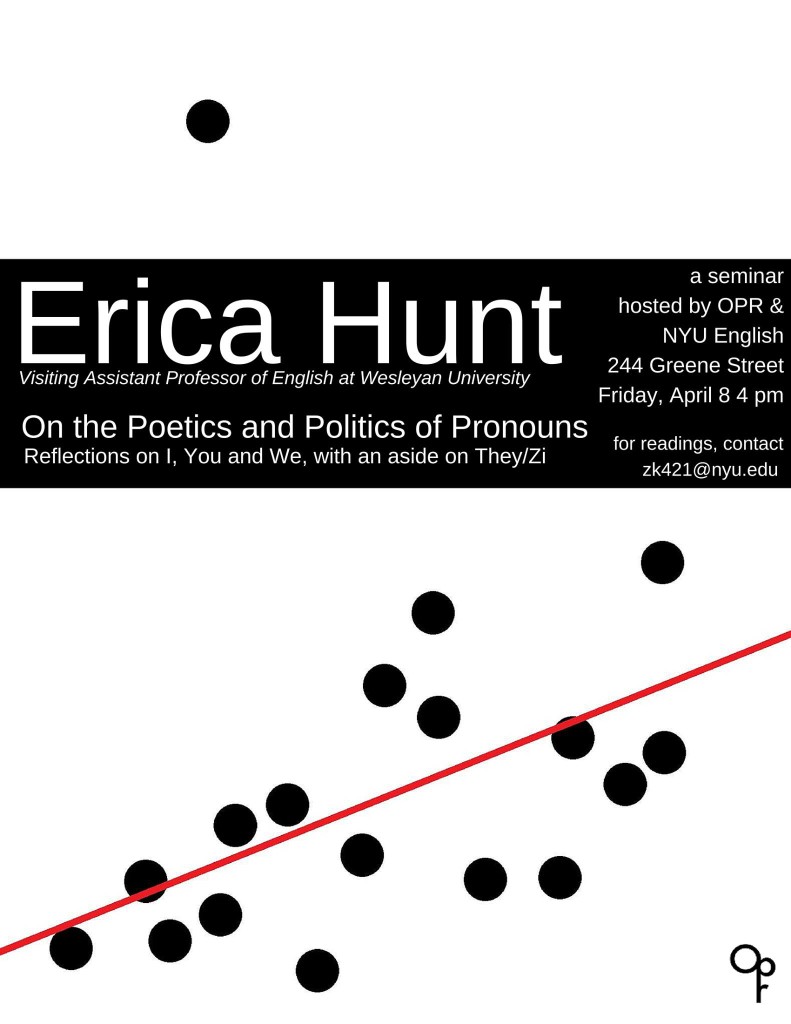 Please join us for a seminar with Erica Hunt, "On the Poetics and Politics of Pronouns: Reflections on I, You and We, with an aside on They/Zi."
Precirculated readings are available by RSVPing to zk421@nyu.edu.
Erica Hunt is a poet, essayist, and author of Local History and Arcade, as well as three chapbooks, Piece Logic, Time Flies Right Before the Eyes and A Day and Its Approximates. Her poems and non-fiction has appeared in BOMB, Boundary 2, Brooklyn Rail, Conjunctions, The Literary Quarterly, The Los Angeles Review of Books, Poetics Journal, Tripwire, Recluse, In the American Tree. Her essays on poetics have been collected in Moving Borders: Three Decades of Innovative Writing by Women and The Politics of Poetic Form, among other anthologies.
Hunt has received awards from the Foundation for Contemporary Art, the Fund for Poetry, and the Djerassi Foundation and is a past fellow of Duke University/University of Capetown Program in Public Policy. She was writer in residence in the Contemporary Poetics/Creative Writing program at Kelly Writer's House at the University of Pennsylvania, writer in residence at Bard College's MFA program, and Long Island University, and a repeated faculty member for Cave Canem, a workshop for Black writers from 2004 to 2015.