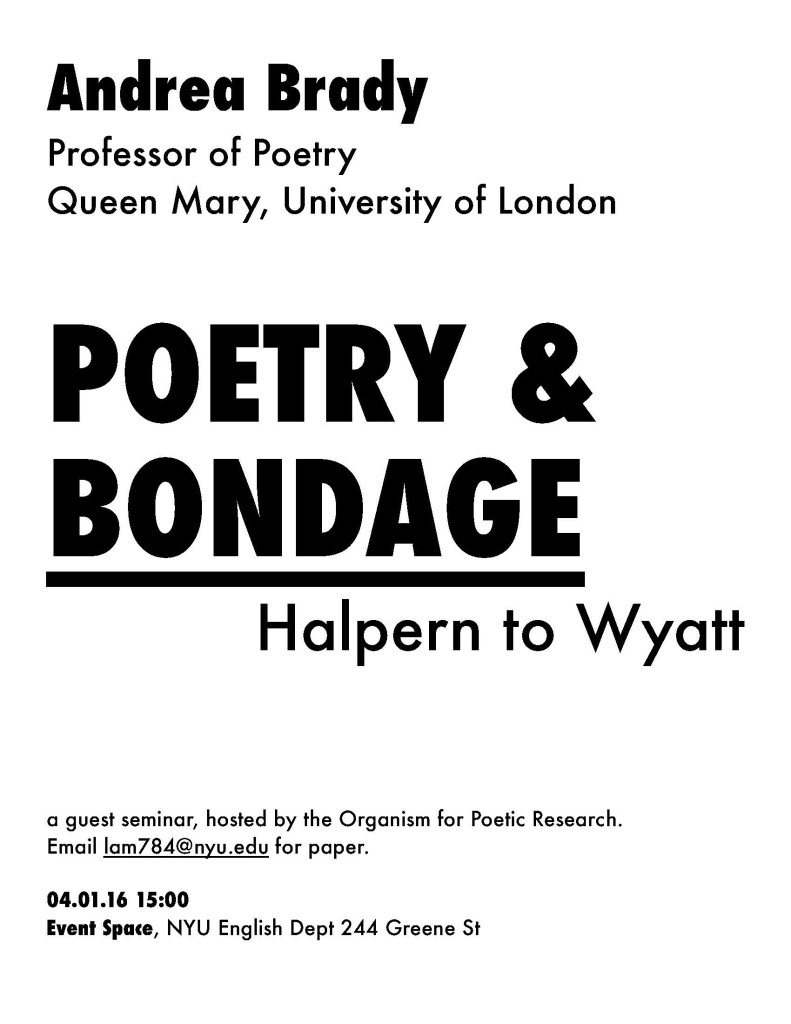 Please join the Organism for Poetic Research on Friday April 1st at 3pm in the NYU English Department's Event Space (244 Greene St. 1st Floor) for a seminar with Andrea Brady, Professor of Poetry at Queen Mary, University of London.
A paper will be distributed a week beforehand: please email Luke McMullan (LAM784@nyu.edu) to get on the recipient list.
Attendees might optionally familiarise themselves with Rob Halpern's Common Place and the collected poems of Thomas Wyatt.
Andrea Brady's books of poetry include Vacation of a Lifetime (Salt, 2001), Wildfire: A Verse Essay on Obscurity and Illumination (Krupskaya, 2010), Mutability: scripts for infancy (Seagull, 2012), Cut from the Rushes (Reality Street, 2013) and Dompteuse (Bookthug, 2014). She was born in Philadelphia and is now Professor of Poetry at Queen Mary University of London, where she runs the Centre for Poetry. She has published widely on poetry and poetics, ritual, embodiment, women's writing, and critical theory; her current book, funded by the Leverhulme Trust, examines poetry and constraint across several historical periods. Andrea is director of the Archive of the Now (www.archiveofthenow.org), a digital repository of recordings of poets performing their own work, and co-publisher of Barque Press (www.barquepress.com).